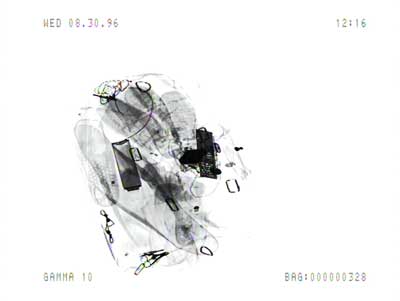 Luggage_X_3_3 is a project that stems from my interest in x-rays, and their use as tools of surveillance. Initially fascinated by the beauty of the images, I was intrigued by the fact I was not allowed to stay and watch this representation of the luggage as it rolled through the security checkpoint.
Obtaining permission to record luggage at Orly airport from the Director of Airports in France took over a year. With the assistance of a cameraman, I recorded three minutes and three seconds of footage before being confronted by security officers. The cameraman was escorted from the airport. I was detained and interrogated for several hours, but I refused to turn over the recordings.
Stills from the three minutes of tape make up the Luggage_X_3_3 series.
 IMAGES
CREDITS
Marie Sester, Concept and Direction
Serge Equilbey, Camera operator
David Lawrence, Digital imaging