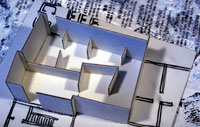 Moved Settlement is an invented space that attempts to liberate the physical body wandering through it from all preconceived cultural or ideological association.
The design of the space resists customary Western styles of furnishings. Outside of the Settlement, a video of x-rayed luggage plays atop a typical Western table accompanied by a similar typical chair.
Western notions of comfort, control (tourism invasion included) and surveillance, in a consumer-driven culture, are combined here to serve as monuments and reference points in a city and in an environment based on the right of access.
The Settlement is made of soft PVC, stainless steel and rubber. Its dimensions are 8.5' x 15′ x 11′. The video of x-rayed luggage was recorded from the Orly airport with the assistance of Europ Scan. The furniture comes from Ikea.
IMAGES
CREDITS
Marie Sester
Concept and Direction
Serge Equilbey
Luggage Recording
Guy Chastagnier
Cameraman
Herve Templon
Assistant
– Produced by the '97 Kwangju Biennale, Korea.
– Exhibited at the Kwangju Biennale in Korea, 1997, co-curated by Julie Lazar and Richard Koshalek.
– Produced by the Centre d'Art Contemporain de Rueil-Malmaison, Paris
– Sponsored by the Total, Atria, and Novotel companies.
– Exhibited at the Centre d'Art Contemporain de Rueil-Malmaison, Paris, 1995